Where do I begin. I don't have a degree in writing. And I don't consider myself a terrbly good writer. But what I write here is mine. I expect others to respect my space. I expect that others will not lift my content, my stories, my life from this place.
That is exactly what happened to a woman I call a friend.
Don Mills Diva
tells her story
here
and
here
. Kelly is calling not just mommy bloggers but all bloggers everywhere to unite with a common cause. Protecting our content.
So it is with pride that my blog will wear this badge.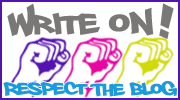 DMD does a far better job explaining than I. Please head over and read her thoughts on the subject.